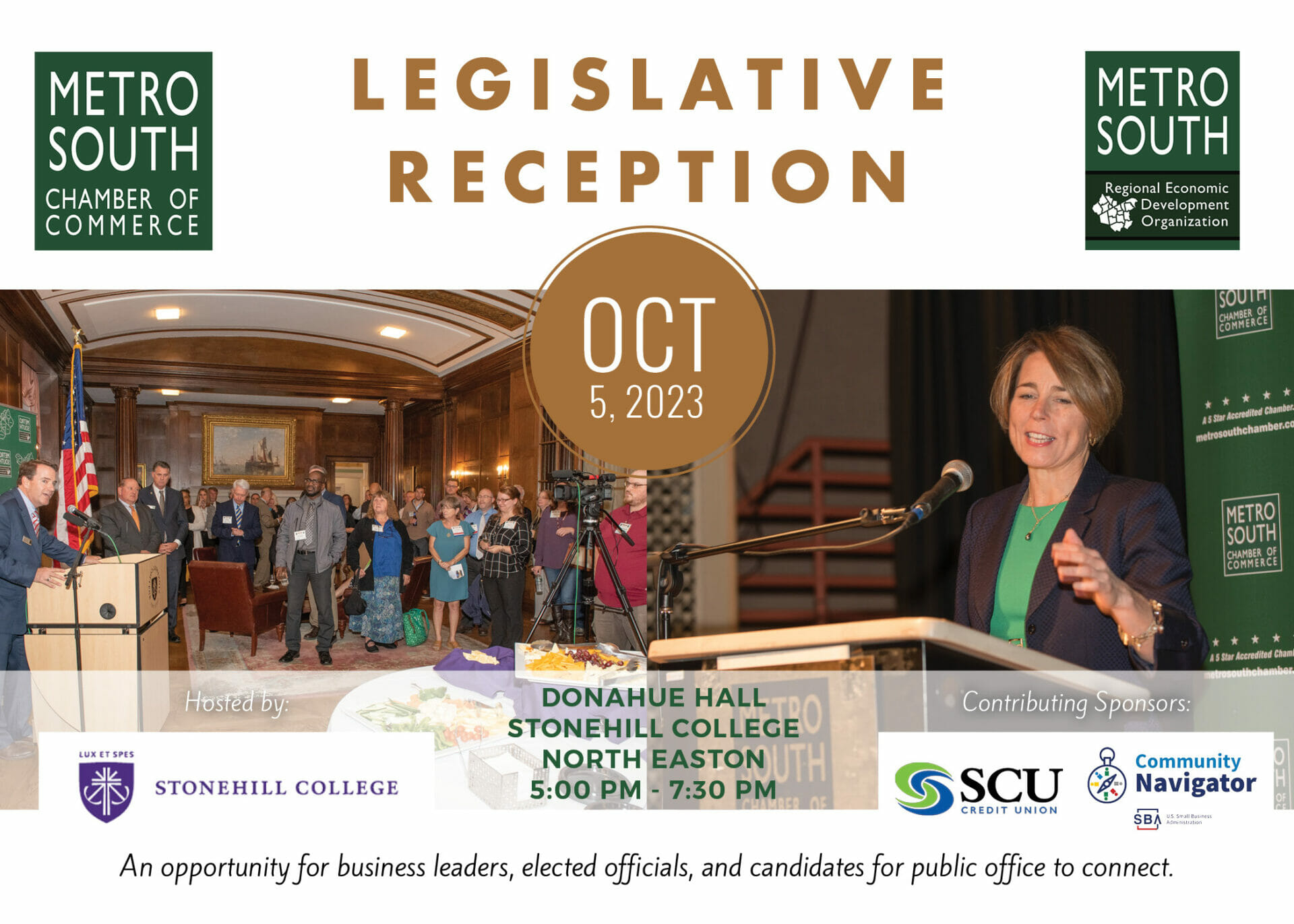 October 5, 2023
5:00 pm -

7:30 pm
The Metro South Chamber of Commerce cordially invites members of the business community, candidates for public office, and state, federal and local elected officials to gather on Thursday, October 5th for the 33rd Annual Legislative and Candidates Reception. The reception will be held at Donahue Hall, on the campus of Stonehill College in Easton from 5:00-7:30 p.m.
The reception is a casual event at which business leaders, elected officials, and candidates for public office can renew contacts and discuss issues of importance to them and the business community while enjoying complimentary refreshments and hors d'oeuvres. Legislative actions at municipal offices, on Beacon Hill and in Washington are having far greater impact on Metro South area businesses than ever before. As a result, there is a greater need for our business community to speak out and be heard on regulations affecting commerce and industry.
As a member of the Metro South Chamber, your organization has a vested interest in helping foster stronger relationships with local officials. The Legislative Reception is an excellent and cost-effective way for you, your key staff, and colleagues to initiate or renew contacts at the state, federal and local level. We encourage your firm to participate and support the unified voice of the Metro South Chamber of Commerce. Together, we can ensure that government understands and supports the needs and concerns of the business community in our region.
For more information, contact Naldo Cardoso or call (508) 586-0500 ext. 231.
Registration is required, sign up now!
Officials expected to attend: State Representative Michelle DuBois; State Representative Rita Mendes; Susan Nicastro, Brockton City Council; Mayor Robert F. Sullivan, City of Brockton; State Senator Michael Brady; Timothy Cruz, Plymouth County District Attorney; Sandra Wright, Plymouth County Commissioner; John R. Buckely, Jr., Plymouth County Register of Deeds; State Senator Walter F. Timilty; State Representative Gerry Cassidy; State Representative Alyson Sullivan; Scott Lambaise, Town of Abington; Michael Dutton, Town of Bridgewater; Dottie Fulginiti, Town of Easton; Connor Read, Town of Easton; Steven Louko, Town of Hanover; Lisa Green, Town of Hanson; Gregory Hanley, Town of Holbrook; Robin Muksian Grimm, Town of Stoughton; Pacale Burga, Town of Weymouth; Daniel Salvucci, Town of Whitman; and more.