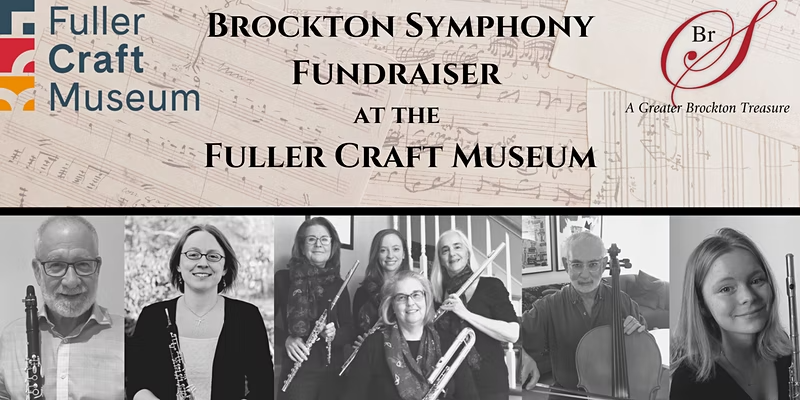 August 27 2022,
1:00 pm -

3:00 pm
Support the Brockton Symphony by attending their musical fundraiser at the Fuller Craft Museum!
About this event
Support the Brockton Symphony by attending their musical fundraiser at the Fuller Craft Museum! On Saturday, August 27th from 1-3PM, Symphony musicians will perform pieces of classical music throughout the galleries with intentional music and art pairings. This unique concert experience will encourage audience members to explore the museum while enjoying connections between art and music.
All donations for this event will go towards the Mark Finklestein Matching Grant to support the BrSO's 2022-2023 Season. The Symphony is fundraising this year to host four symphonic concerts, and its largest season of programming since 2019. The Matching Grant fund will match new donations and increased renewals up to a total of $10,000 in order to financially make the 2022-2023 season a reality. Please bring your donation to the fundraiser, and support the Symphony two-fold! Donations are also available before the concert through the Eventbrite page.
Thank you to the Fuller Craft Museum for collaborating with the Symphony and hosting this event!
Musician Bios:
Mark Finklestein currently serves as co-principal oboist and English horn in the Brockton Symphony Orchestra, where he has played for 25 years. He also plays bassoon in the Quincy Symphony. He has played in chamber ensembles and woodwind quintets for many years as well as in pit orchestras for school and community theatre, where he doubles on clarinet and saxes. He has played in the Sharon Community Chamber Orchestra, Waltham Philharmonic, Falmouth Orchestra, and the MIT summer orchestra as a double reed player.
Howard Katz studied cello from 5th grade through 12th grade in Buffalo NY with Alta Mayer, a member of the Buffalo Philharmonic. He stopped playing when he started college but restarted 42 years later, in 2013, when his partner, an active amateur musician, gave him a cello rental for his 60th birthday. He currently plays with the Brockton Symphony and subs for the bassoon in a woodwind quintet in Jamaica Plain.
Susan Caplan is the co-principal flutist and Chairperson of the Brockton Symphony. She is also a member of the Wellesley Symphony, Quincy Symphony, and MIT Summer Philharmonic Orchestra. She has performed with the Newton Symphony, New Philharmonia Orchestra, Savoyard Light Opera Company, and the Sudbury Savoyards. Ms. Caplan's primary teachers include Steven Finley, Doriot Anthony Dwyer, Elinor Preble, and William Grass. Susan is on the Board of the James Pappoutsakis Memorial Flute Competition and was one of the founders of MusicCounts! in Canton. Susan enjoys teaching flute, learning, reading, Pilates, hiking, dancing, cooking, nature, architecture, singing, and spending time with her husband Michael and her three grown-up children.
Barbara Clement plays second Flute and piccolo with the Cape Ann Symphony, Quincy Symphony, and Melrose Symphony. She is on the Quincy Symphony Board of Directors. Barbara is an instructor of Classical, Traditional and Contemporary Music for beginning through advanced flute, oboe, and piano at the Southeast School of Music in South Easton. Barbara has taught flute at Eastern Nazarene College, Louisiana State University, and the University of Wyoming. She has performed in various orchestras and chamber ensembles in Wyoming, Colorado, Louisiana, and Arkansas.
Lorrie Hassan is the founder of BrSO Flutissimo quartet. She has played in Brockton Symphony Orchestra, Falmouth Chamber Players, Firebird Pops Orchestra, Melrose Orchestra and Quincy Symphony. She also established and coached flute choirs at Taunton High School and Sharon High School. She teaches private flute lessons in North Easton. She enjoys crafting in her spare time.
A native of Fall River, Massachusetts, Sandra Medeiros holds a master's degree in music education from Gordon College. She teaches 7th and 8th grade instrumental music in the Bridgewater-Raynham Public Schools. Sandra studied under Susan Thomas as an undergraduate at the University of Rhode Island. She plays with the Tri-County Symphonic band, Marion Concert Band, and performs regularly throughout the southeastern Massachusetts area.
Melanie Hayn is an oboist with the Brockton Symphony and serves on its board of directors. She is also a member of the Falmouth Chamber Players Orchestra and plays regularly with several chamber music ensembles, including the Trident Chamber Ensemble, which regularly plays in Brockton and on Cape Cod.
Aimee Toner is the Marketing and Fundraising Manager of the Brockton Symphony. She is also a recent graduate of the New England Conservatory, where she was awarded a Master's of Music in Flute Performance and studied with Cynthia Meyers of the Boston Symphony Orchestra. As a performer, Aimee has served as principal flutist and piccolo player in a variety of orchestras including the New York Youth Symphony, the New Amsterdam Opera, and the Claremont Chamber Orchestra, and has collaborated in chamber groups that have ranged from jazz trios in Italian restaurants to wind quintets on stage at Carnegie Hall. Read more at aimeetoner.com