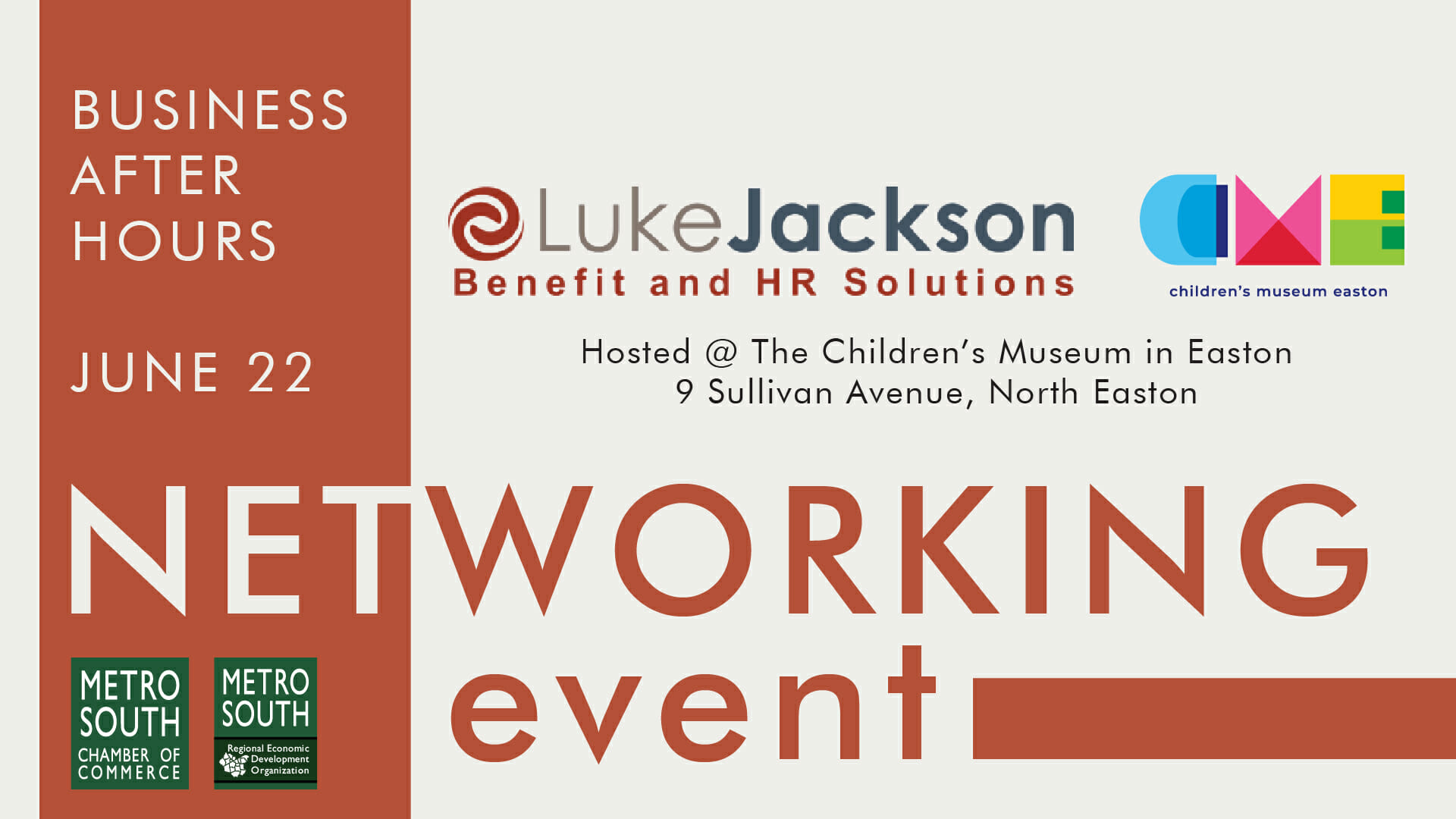 June 22 2022,
5:00 pm -

7:00 pm
Please join us on Wednesday, June 22nd from 5-7:00 PM for an evening of fun, food, and festivities with LukeJackson Benefit and HR Solutions, at the Children's Museum in Easton at 9 Sullivan Avenue in North Easton. Door prizes include Red Sox tickets, two $50 gift cards to Barrett's Alehouse, and more!
Don't miss this great business-building opportunity hosted by LukeJackson Benefit and HR Solutions. Enjoy delicious food and beverages catered by Abby Park Restaurant Group while connecting with potential customers, existing chamber members, and friends in the Metro South community.
An assortment of hors d'oeuvres from area restaurants including Novara Restaurant (Cypress Catering in Milton), Not Just Thaboule (Easton), Georgio's (Brockton), and Montilio's (Brockton)  will be available as well as beer and wine!
Novara / Cypress Catering, Milton
Antipasto Shooters [diced Italian meats, cheese, peppers, cucumber, olives]
Caprese Salad Skewers [cherry tomatoes, mozzarella, basil pesto]
Hommus
Thaboule
Grape Leaves
Fruit Platter
Homemade Buffalo Fingers
Homemade Sweet Asian
Finger Roll Sandwiches [turkey, chicken salad, ham & cheese]
Tickets to this event are complimentary, but please RSVP in advance. Questions? Contact Cathryn Schofield, (508) 586-0500 x 231.
About LukeJackson: LukeJackson is an independent insurance brokerage and human resource services firm with expertise across the design and funding of employee benefits programs, human resource administration and state and federal regulatory compliance. We simplify the administration of employee benefits and human resources to help employers of all sizes optimize their investment in employees and the success of their business.
We are a client focused service organization founded on core principles of integrity, trust and honesty. Our goal is to create meaningful and measurable value for clients while exceeding their expectations in every facet of our relationship.