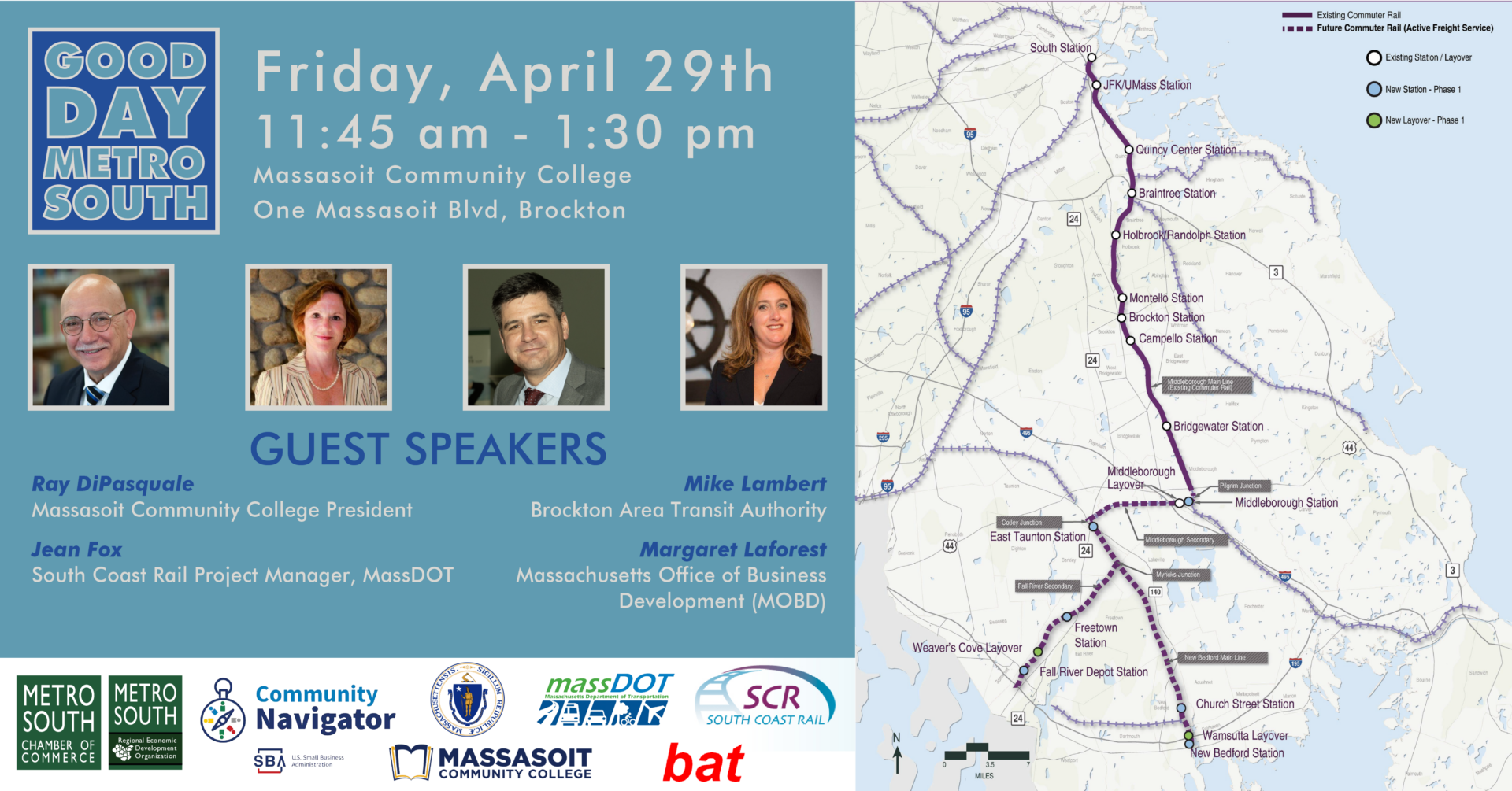 April 29 2022,
11:45 am -

1:30 pm
Please do not attend if you feel unwell. Massasoit requires vaccination of on-campus guests. Thank you for doing your part!
Please join us on Friday, April 29th for a Good Day Metro South luncheon event hosted by Massasoit Community College from 11:45 am – 1:30 pm. This event will feature Jean Fox, project manager of the new South Coast Rail at MassDOT, and an interview with Massasoit Community College president, Ray DiPasquale. Also featured: Mike Lambert, Brockton Area Transit Authority; Margaret Laforest, Massachusetts Office of Business Development (MOBD). Questions? Contact Cathryn Schofield or call (508) 586-0500 x 231 for assistance.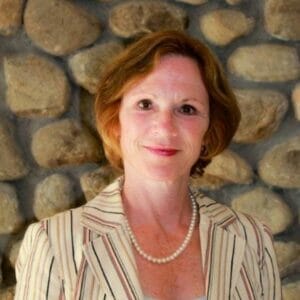 Jean Fox is the manager of the Massachusetts Department of Transportation's South Coast Rail project. Jean also serves on the Bristol County Commission on the Status of Women, the Freetown-Lakeville Regional School Committee, and UMass Dartmouth's Center for Policy Analysis.
A former Freetown Selectman, Jean has participated on numerous educational boards and committees in the Southcoast, was a founding board member of the Alma del Mar Charter School and a SMILES mentor for three years.
Prior to joining MassDOT in 2011, Jean was the Youth Council Director and LiteracyWorks Entrepreneur at the Greater New Bedford Workforce Investment Board. Jean also served on the Southeastern Regional Planning and Economic Development District (SRPEDD) Commission, the Metropolitan Planning Organization, and the SRTA Advisory Board. She has been active in bringing much-needed attention to the transportation needs of the region, working on a Transit Development Plan in New Bedford, advocating for reliable transportation for women and students to get to and from work, jobs, education, healthcare, and childcare.
Fox earned her B.A. from the University of New Mexico and M.B.A. from George Washington University. She lives in Freetown with her husband, Lou, and has three grown children. In addition to the Freetown Board of Selectmen, she has served on the Bristol County Commission on the Status of Women, the South Coast Education Compact, as well as a number of school and education advisory boards in New Bedford.
Jean has been recognized by several regional organizations for her commitment to the area, to her community, to women and girls, as well as education and workforce development. She was named a Woman of Distinction by the YWCA of Southeastern Massachusetts in 2013. She received the Lifelong Achievement Award from the Massachusetts Association of School Committees in 2010. She was named Commissioner of the Year in 2010 by SRPEDD. In 2006, Jean was recognized as an "Unsung Heroine" by the Massachusetts Commission on the Status of Women for her volunteerism. Jean was named Freetown Woman of the Year in 1999.
Visit mbta.com/projects/south-coast-rail to read more about South Coast Rail and the activity surrounding the project.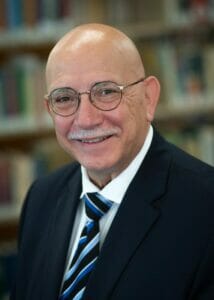 Ray DiPasquale began his presidency at Massasoit Community College in August 2021. Prior to his appointment, he served as President of Clinton Community College in New York. Additionally, Mr. DiPasquale was a consultant for the Rhode Island Board of Education and served as President of the Community College of Rhode Island from July 2006 to January 2016; served as commissioner of higher education for the Rhode Island Board of Governors for Higher Education (now the Rhode Island Board of Education); as Vice President for Enrollment Management and Student Affairs at the SUNY College at Brockport; and in a number of leadership positions at Springfield Technical Community College. He began his career in higher education at Middlesex Community College.
Mr. DiPasquale holds a master's degree from Northeastern University and a bachelor's degree from Arkansas Tech University. He also received an Honorary Doctor of Humane Letters bestowed by the New England Institute of Technology.
To learn more about Ray and Massasoit Community College, please visit massasoit.edu.