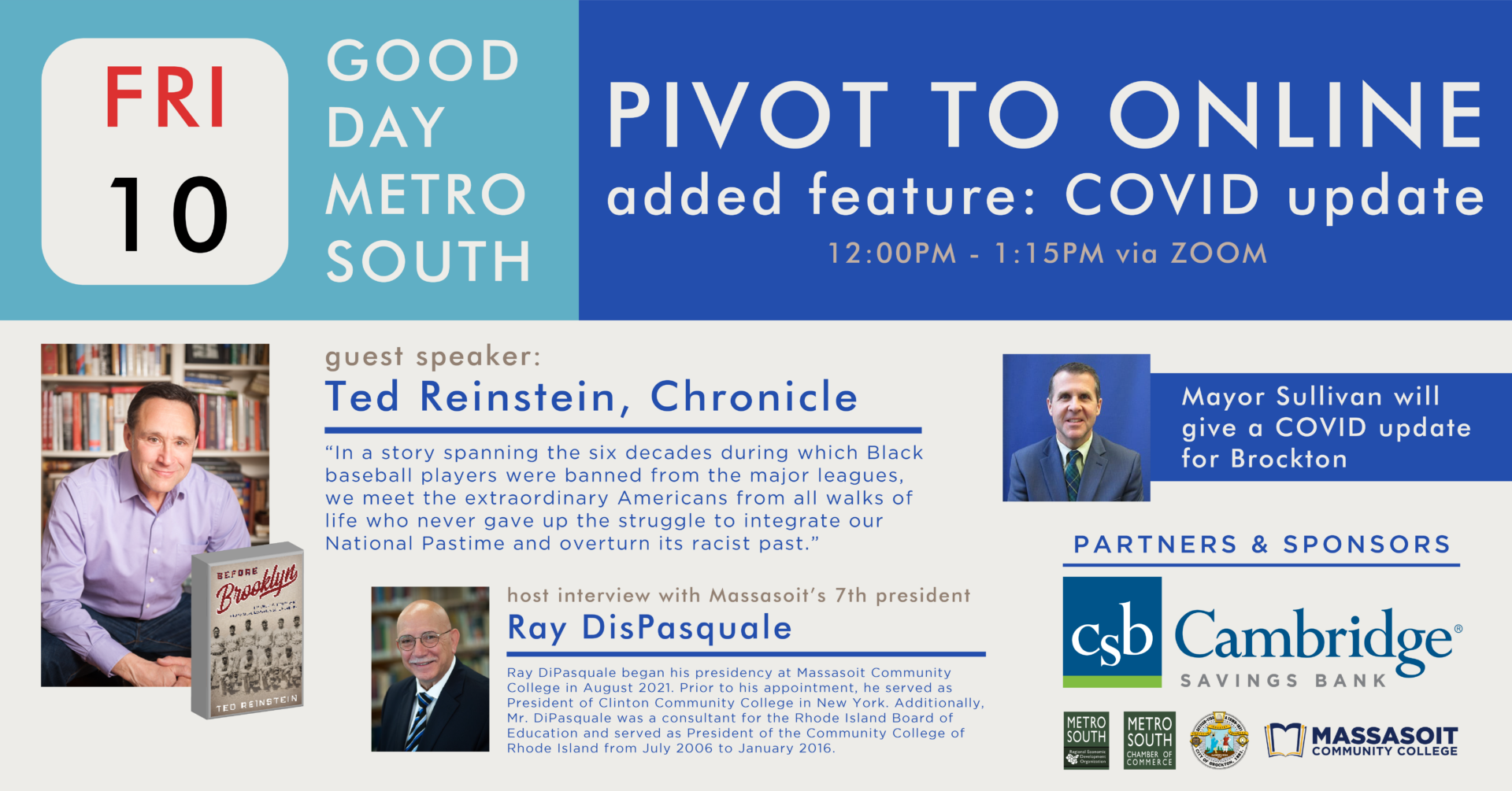 December 10 2021,
12:00 pm -

1:15 pm
PLEASE NOTE: DUE TO INCREASING COVID CASES, THIS EVENT HAS PIVOTED TO AN ONLINE PLATFORM. REGISTER ONLINE VIA ZOOM!
Join us Friday, December 10th for a Good Day Metro South event from 12:00 pm – 1:15 pm via zoom, sponsored by Cambridge Savings Bank. We are excited to announce the featured speaker for this event is Chronicle Reporter, Ted Reinstein; he will discuss his new book Before Brooklyn: The Unsung Heroes Who Helped Break Baseball's Color Barrier. "In a story spanning the six decades during which Black baseball players were banned from the major leagues, we meet the extraordinary Americans from all walks of life who never gave up the struggle to integrate our National Pastime and overturn its racist past."
Questions? Contact Cathryn Schofield. Registration is required, sign up now!
Sponsors & Partners: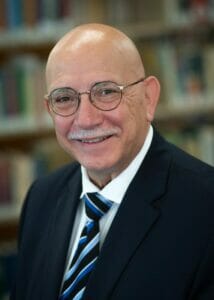 With an interview with our host, Massasoit Community College's seventh president, Ray DiPasquale.
Ray DiPasquale began his presidency at Massasoit Community College in August 2021. Prior to his appointment, he served as President of Clinton Community College in New York. Additionally, Mr. DiPasquale was a consultant for the Rhode Island Board of Education and served as President of the Community College of Rhode Island from July 2006 to January 2016; served as commissioner of higher education for the Rhode Island Board of Governors for Higher Education (now the Rhode Island Board of Education); as Vice President for Enrollment Management and Student Affairs at the SUNY College at Brockport; and in a number of leadership positions at Springfield Technical Community College. He began his career in higher education at Middlesex Community College.
Mr. DiPasquale holds a master's degree from Northeastern University and a bachelor's degree from Arkansas Tech University. He also received an Honorary Doctor of Humane Letters bestowed by the New England Institute of Technology.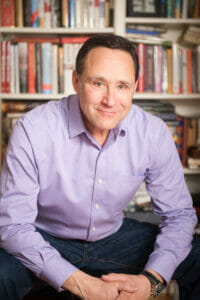 About Ted Reinstein: Ted Reinstein is best known in New England as a journalist and reporter for "Chronicle," Boston's celebrated—and America's longest-running, locally-produced—TV newsmagazine. While he appears occasionally in the studio at the anchor desk or delivering an opinion commentary, it's out in the field where viewers are most familiar seeing Ted. From every corner of New England, he's found the offbeat, the unique, the moving, and the just plain memorable, all while telling the enduringly colorful stories of the region's people and places.
Ted has also been a regular contributor for WCVB's political roundtable show, "On The Record," and has been a member of the station's editorial board since 2010. In 2002, he was part of a "Chronicle" team which received a national DuPont-Columbia Broadcast Journalism Award for coverage of Boston's controversial Big Dig, and how such massive public works projects compare around the world. In 2018, he received an Emmy Award for his story on the "Good Night Lights" phenomenon in Providence, Rhode Island.
Elsewhere on television, Ted hosted the premiere season of the Discovery Channel's Popular Mechanics show, and brought viewers up-close to some of America's most iconic landmarks for the HGTV network's special, "Lighthouses." For the Travel Channel's photo-adventure series, FreezeFrame, he explored Hawaii's volcanoes, the caves of Puerto Rico, and the South Pacific islands of Tahiti.
His first book, A New England Notebook: One Reporter, Six States, Uncommon Stories (Globe Pequot Press/2013) was selected by National Geographic Traveler as a "Best Pick." He is also the author of Wicked Pissed: New England's Most Famous Feuds (GPP/2015), and co-author, with his wife, Anne-Marie Dorning, of New England's General Stores: Exploring an American Classic (GPP/2017). Ted's most recent book is Before Brooklyn: The Unsung Heroes Who Helped Break Baseball's Color Barrier (Lyons Press/2021).
Ted received his bachelor's and master's degrees from Brandeis University. He has two daughters, and lives just west of Boston.