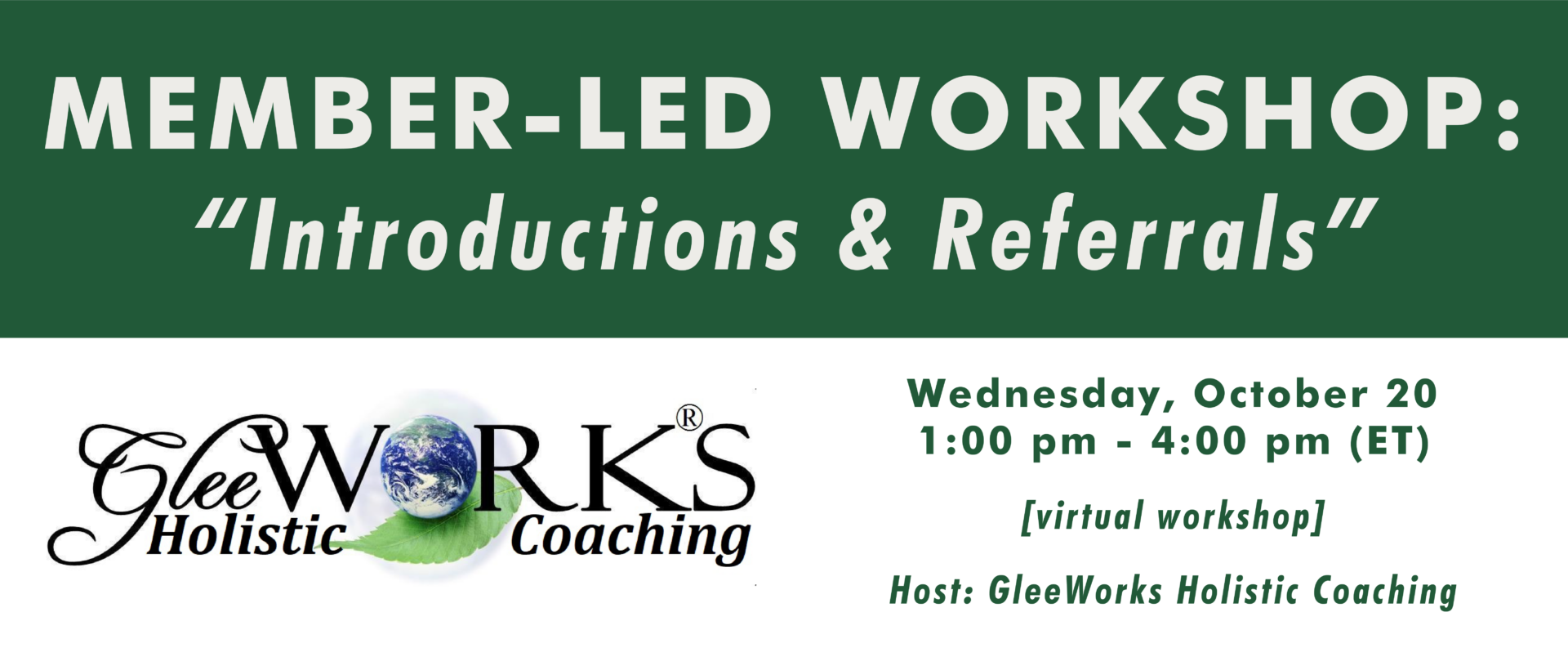 October 20 2021,
1:00 pm -

4:00 pm
Join us for an exciting virtual "Introduction and Referrals" workshop on Wednesday, October 20th from 1-4pm with Marcy Venezia. Making a proper introduction and referral skills you need to create opportunity and grow your business.
Are you meeting people but still not getting business? Do you avoid going to networking events? Do you have piles of business cards and don't know what to do next? This workshop will teach you the art and science of making an introduction and getting referrals. These are skills you need to help you create opportunities to grow your business. Workshop includes….
Identify good referral sources

Set up and conduct a meeting
You will develop your 60 second pitch
Manage anxiety and resistance around networking
Learn how to ask for business
Create win-win situations
Build a supportive ecosystem.
Marcy Venezia, CEO GleeWorks Holistic Coaching, coaches business leader looking to develop new skills or facing challenges using a unique and effective mind, body spirit approach. She is a serial entrepreneur, has an MBA, BSN in Nursing and BA in Sociology/Counseling. She consults with the Metro South Chamber of Commerce, Heads the Easton Chapter Networking Group USA and is on the leadership council of Above the Clouds a Charity that serves children facing challenges with an amazing flying experience.
Join Marcy Venezia, for an action packed and informative workshop on Introductions and Referrals. $75/members and $95 for non-members. Call Marcy at 781-223-8221 or email marcyvenezia@gmail.com to register.