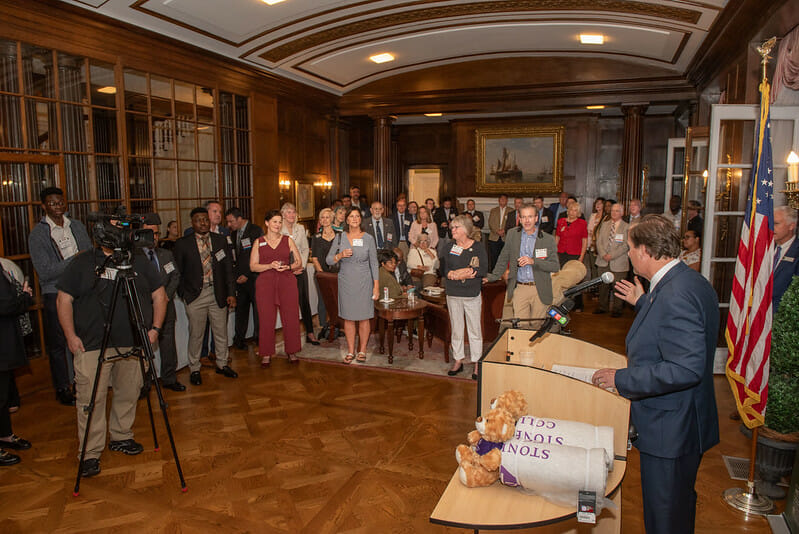 In October, Stonehill College hosted the Metro South Chamber's 33rd Annual Legislative Reception at the historic Donahue Hall. The Legislative Reception is a casual event at which business leaders, elected officials, and candidates for public office can renew contacts and discuss issues of importance to them and the business community while enjoying complimentary refreshments and hors d'oeuvres. Legislative actions at municipal offices, on Beacon Hill and in Washington are having far greater impact on Metro South area businesses than ever before. As a result, there is a greater need for our business community to speak out and be heard on regulations affecting commerce and industry.
Metro South Chamber members have a vested interest in helping foster stronger relationships with local officials. The Legislative Reception is an excellent and cost-effective way for you, your key staff, and colleagues to initiate or renew contacts at the state, federal and local level. We encourage your firm to participate and support the unified voice of the Metro South Chamber of Commerce. Together, we can ensure that government understands and supports the needs and concerns of the business community in our region.
History of Donahue Hall

One of the central symbols of Stonehill College is Donahue Hall, the mansion house built on the estate of Frederick Lothrop Ames (1876-1921).

Designed by architects Parker, Thomas and Rice of Boston, the 2 ½ story, 55-room Georgian Revival style mansion features a classical façade framed by two gabled wings and a connecting colonnade of six Corinthian columns and was known as Stone House Hill House. In 1935, the Congregation of Holy Cross, the College's sponsoring religious organization, bought the Ames estate from his widow for use as a seminary.

In 1948, the Congregation established the College, giving it the name "Stonehill" which was derived from the estate name. The building became the academic and administrative hub of the College, and included the library and cafeteria in addition to serving as the residence of the priests assigned to the College.  In 1963, the building was officially named "Donahue Hall" in honor of Rev. James Donahue, C.S.C., the Superior General of the Congregation of Holy Cross who authorized the purchase of the Ames property in 1935.

Home to the Admission Office and the Office of the President, Donahue Hall today stands at the summit of a mature 380-acre campus comprising more than 30 major buildings, athletic fields, lawn and landscaped areas, agricultural use land, forested areas, undeveloped acreage. Throughout its history, the College has worked diligently to maintain the layout of the house and to keep its architectural integrity.
This event sponsored by SCU Credit Union and Stonehill College. Photos courtesy of Rich Morgan Photography, visit our flickr page to view more.