U.S. Small Business Administration Extends Strategic Alliance with the Metro South Chamber of Commerce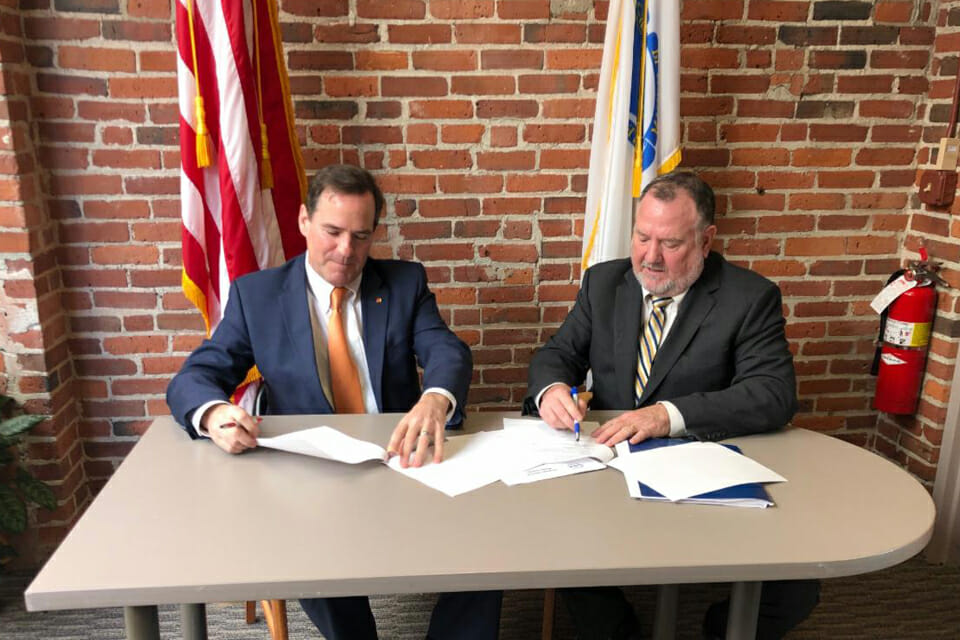 SBA Massachusetts District Director Bob Nelson visited the Chamber to discuss further collaboration and cooperation, joining for a ceremonial signing of a Strategic Alliance Memorandum. We look forward to continuing to offer business support to the region through SBA. Click here to learn more and make an appointment to meet with SBA during Chamber office hours.
Brockton Business Guide
Created through a partnership with the City of Brockton, the Brockton Business Guide is meant to serve as a basis for businesses opening or moving to the City of Brockton. View the Brockton Business Guide.
Business Assistance Center
Sixty School Street, Brockton, MA 02301
Phone (508) 586-0500
Hours of Operation for the Center
Monday-Friday, 9:30 AM to 4:00 PM
Individual counseling by appointment. Visit sema.score.org
E-Mail: info@metrosouthchamber.com
The Metro South BAC is an innovative, high-tech, one-stop business resource center with a convenient location and a friendly professional staff. It's your single source for help in making your business thrive. The Cyber BAC is intended to be a companion to the Metro South Business Assistance Center. The Cyber BAC offers a directory of materials that can be found at the BAC including hours of operation, information on special workshops, and a comprehensive list of business related links to help you start your business. You can even e-mail questions to a BAC counselor, if you can't visit the Metro South BAC. The BAC is located inside the Metro South Chamber of Commerce building.
Major Sponsors:
ABOUT THE METRO SOUTH BUSINESS ASSISTANCE CENTER (BAC)
Starting and running a small business can be difficult! Many organizations exist to provide you with the information and advice you're looking for. However, it can often be difficult and confusing running around to each in order to get this information. Wouldn't it be great if all the help you needed was gathered together for you under one roof? It is and it's called the Metro South Business Assistance Center (BAC)!
The Metro South Business Assistance Center is a joint venture between the U.S. Small Business Administration, the Metro South Chamber of Commerce, the Service Corps of Retired Executives, the Massachusetts Small Business Development Center Network, HarborOne Bank, and twenty-seven other companies and economic development organizations.
WHO WILL BENEFIT?
You and the entire community. New and thriving businesses contribute to the region's prosperity and its image as a great place to live, work, and get ahead. Your success will be our reward.What do we offer?
COMPUTERS
Use of the latest technology and the instruction needed to access on-line links to specific data through the Internet and World Wide Web, including U.S. Small Business Administration, and census data.
BUSINESS-RELATED SOFTWARE

Quick Books Pro
Business Plan Pro
Loan Builder
Marketing Builder
Publicity Builder
Employee Manual Maker
Inc. Business Plan
BizForms
Microsoft Office

And other software geared to particular business fields.

INFORMATIONAL & INSTRUCTIONAL VIDEOS

"Create a Company"
"Sales Strategies"
"Women in Business"
"Do-It-Yourself Marketing"
"Basics of Exporting"
"Successful Sales Relations"
"Raising Capital"
"Effective Sales Calls"
"Run A Small Company"
"Creating A Winner"

And many other videos geared to your particular business needs.

DETAILED DATA
Comprehensive Data on CD-ROM Disk including:

Dun and Bradstreet MarketPlace
The Export Directory of Denmark
Inc. Magazine's "How To Really Start Your Own Business"

And other CD-ROM Disks geared to particular business fields.

REFERENCE MATERIAL
An outstanding collection of reference materials that include Start-Up Guides, the Inc. Business Series, and hundreds of fully detailed easy to understand step-by-step guides for every aspect of starting and maintaining a small business. For example:

"Starting & Operating a Business in Massachusetts"
"Anatomy of a Business Plan"
"How to Buy or Sell a Business"
"Financing your Small Business"
And More....
WHO ARE THE COUNSELORS & CONSULTANTS?
They are either working or retired business professionals, highly experienced and willing to share their experience in financing, marketing, management, and more.  For more information or to schedule your free counseling session with SCORE, visit SCORE SE Massachusetts.
WHAT KIND OF TRAINING IS AVAILABLE?
Individual counseling, as well as workshops and seminars covering all aspects of starting and operating a business. Visit our calendar to see a list of upcoming workshops.