Becoming a member of the Metro South Chamber of Commerce is one of the best investments a business can make. The Chamber is all about opportunity! Joining the Metro South Chamber of Commerce can help to unlock the doors of opportunity for a business. When a business belongs to the Metro South Chamber of Commerce, they are a leader within the business community and a member of the region's most dynamic advocacy organization. Membership means potential new business prospects, new savings, access to resources, and valuable information for you and your business.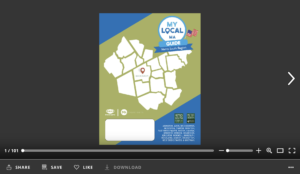 New Contacts
The Chamber actively presents a wide variety of programs providing you with hundreds of opportunities to make profitable business contacts.
Savings
You have access to valuable group medical and dental insurance plans, and discounts on energy. Plus, members receive discounts on conference room rental rates, directs marketing tools, admission to all Chamber events and more. Visit the Savings page.
Exposure
The Chamber is your bridge to thousands of prospects putting your company name is in front of thousands of businesses and customers. Your business receives free listings in the Metro South annual Book For Business and on the Metro South Chamber homepage including a free hot link. Additional affordable and diverse marketing options are available to include advertising in our monthly Action Report, sponsoring an event, advertising, or exhibiting at one of many annual events.
Professional Development
Expand your horizons by participating in information packed meetings, seminars, issue forums and workshops. These timely sessions are specifically designed to strengthen your management effectiveness and your company's profitability.
Economic Growth
Creating and retaining jobs is a primary function of the Chamber. We tackle the tough issues affecting the region's economy. The Chamber helps members remain competitive, grow, and prosper.
Legislative Action
As a member, you'll have a voice in the Chamber's actions to pass pro-business legislation and prevent the passage of legislation that hurts businesses. The Chamber also hosts monthly Government Affairs Meetings, an annual Legislative Reception and an annual Legislative Luncheon.
Information
We keep you informed with our fast-reading, awards winning Action Report newsletter. You have access to helpful resources, facts and figures, market trends, business tips, management techniques, and timely information on the people and issues affecting our community.  You may also subscribe to receive the weekly E-update email blast containing relevant information.
Community Betterment
Expansion of water and wastewater regional resources, education, recognition, marketing, job training, and cultural diversity are some of the emerging community issues being addressed by the Chamber to enhance the quality of life in the Metro South Region.
Chamber Foundation
A 501 (c) 3 Foundation assisting in the betterment of the community through charitable activities. Funds raised by the Foundation are utilized primarily for workforce development projects and  charitable activities in the Brockton Metropolitan area, including scholarships to eligible applicants pursuing training and grants to local non-profits for vocational or technical training projects.
Business Resources
At the Chamber office you can access over twenty local, regional, state, and federal business assistance organizations including the Small Business Administration, financing through SEED Corp., and free one-on-one business assistance through SCORE. We also offer free use of our new computer lab and updated selection of business books and videos in the Business Assistance Center.  View the resource partners with offices inside the Chamber building.
Affiliated Business Organizations
Provides business leaders from shared communities the opportunity to access resources and tools offered by the affiliate organizations in order to strengthen the business community.
Credibility
Chamber membership identifies your business as committed to good business practices. The MSCC is a five-star accredited Chamber by the U.S. Chamber of Commerce. The accreditation is confirmation of our organizational integrity, and dedication to rigid standards of quality business programs and professional service to our members. It is one of only 4 accredited Chambers in Massachusetts and one of only 3 five-star accredited Chambers in New England
Click here to find out what others are saying about the Metro South Chamber of Commerce.
For more information on member services contact the Chamber at (508) 586-0500.