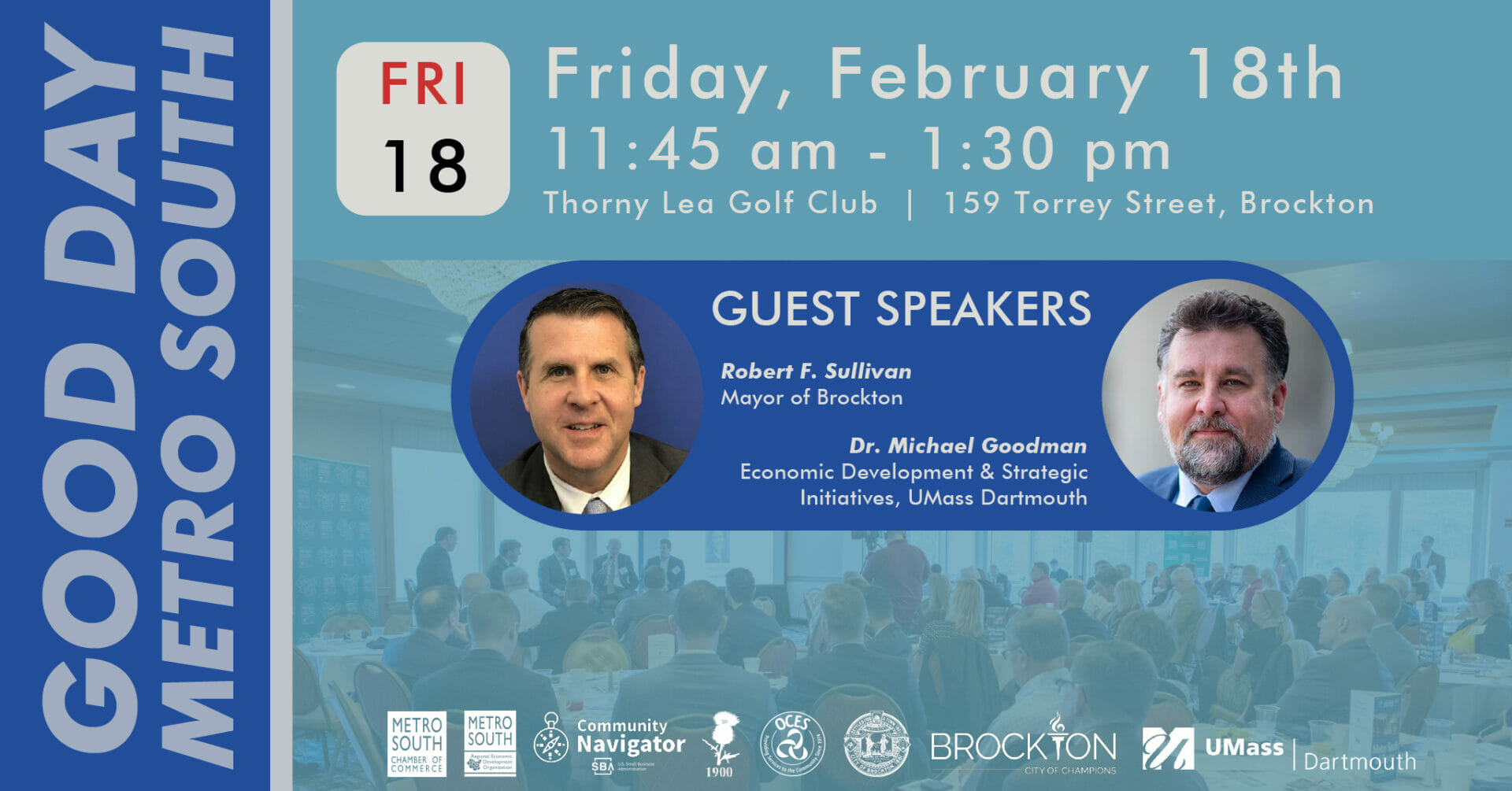 February 18 2022,
11:45 am -

1:30 pm
Please do not attend if you feel unwell. Masks are encouraged. Thank you for doing your part!
Please join us on Friday, February 18th for a Good Day Metro South hosted by Thorny Lea Golf Club at 159 Torrey Street in Brockton from 11:45 am – 1:30 pm.  The guest speakers for this event are Mayor of Brockton, Robert F. Sullivan and Dr. Michael Goodman, Senior Advisor to the Chancellor for Economic Development and Strategic Initiatives, UMass Dartmouth. Pre-registration is required: sign up here. This event is sponsored by OCES – Old Colony Elder Services.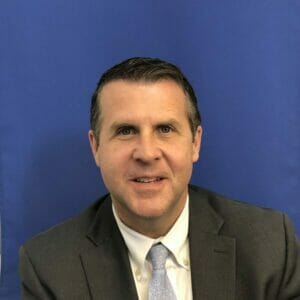 ABOUT THE GUEST SPEAKER:
"Robert F. Sullivan was born and raised in Brockton, MA. He is the son of Robert and Susan Sullivan and grew up on Wellington Street in Ward two. He attended Brockton Public Schools (Whitman Elementary School, West Junior High School) and graduated from Brockton High School in 1988. He earned his BA and MBA at Boston College, and his JD at the New England School of Law.
Prior to being elected Mayor in 2019, he has served on the Brockton City Council as a Councilor-At-Large since 2006. In that role, he was elected by his colleagues to serve as the City Council President five times.
He previously served as a volunteer Board Member of the Good Samaritan Medical Center (2009-2019), the St. Joseph Manor Nursing Home, and the Brockton Historical Society.
He is a volunteer youth soccer, baseball, and basketball coach within the City of Brockton.  He is a member of Our Lady of Lourdes Church. He is married to Maria (Luizzi) Sullivan, who also grew up in Brockton, and they have three children."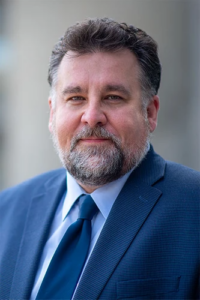 "Dr. Michael Goodman is Senior Advisor to the Chancellor for Economic Development and Strategic Initiatives and Professor of Public Policy at the University of Massachusetts Dartmouth.
In August 2020 he was appointed Acting Provost and Vice Chancellor for Academic Affairs by UMass System President Marty Meehan and served 18 months in that role. This followed six years of service as Executive Director of the Public Policy Center, two terms as Faculty Senate President, and six years as Chair of the Department of Public Policy.
Professor Goodman joined the faculty at UMass Dartmouth in 2009 after serving for eight years as the Director of Economic and Public Policy Research at the UMass Donahue Institute.
A leading analyst of the Massachusetts economy, he has authored or co-authored over fifty professional publications on a wide range of public policy issues including regional economic development and housing policy as well as demographic and other applied social science research topics. He has supported this research by generating over $6 million in external grant and contract funding from a diverse array of public and private sources.
An economic sociologist, Professor Goodman is a three-time past president of the New England Economic Partnership, a nonprofit organization made up of leading regional analysts that produces semi-annual economic forecasts of the economic outlook for each of the six New England states.
He currently serves as Co-Editor of MassBenchmarks, the journal of the Massachusetts economy published by the UMass Donahue Institute in cooperation with the Federal Reserve Bank of Boston.
Dr. Goodman earned his MA and PhD at Boston University."