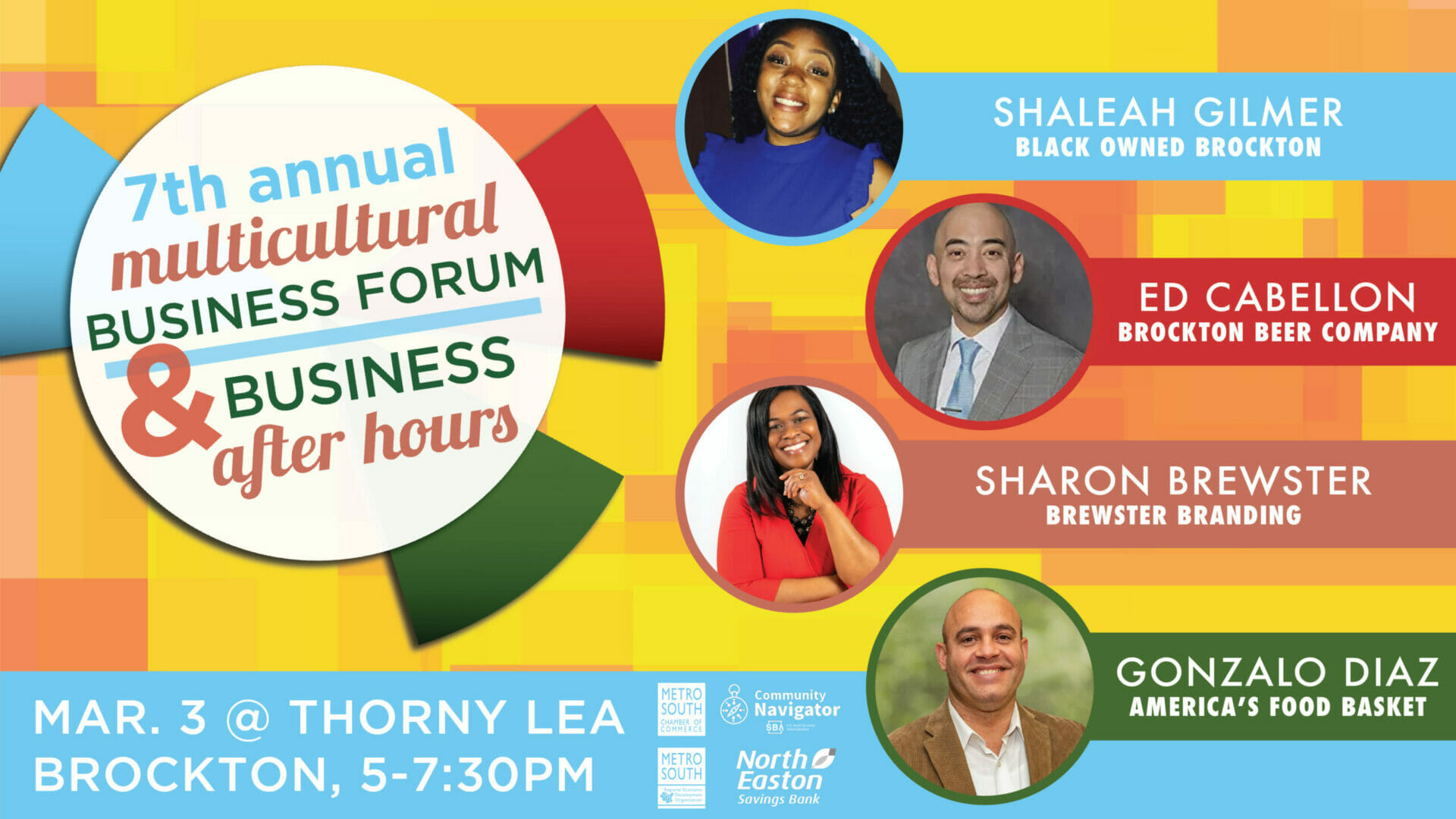 March 3 2022,
5:00 pm -

7:30 pm
Please do not attend if you feel unwell. Masks are encouraged. Thank you for doing your part!
Join us Thursday, March 3 from 5:00 pm -7:30 pm for the 7th Annual Multicultural Business Forum & Business After Hours. This is a great opportunity for potential and existing entrepreneurs to learn about helpful resources, network with local businesses, and hear from entrepreneurs who have successful businesses. The business resource expo is FREE to participate! EXPO IS SOLD OUT!
Learn about resources available to help start and grow your business. Experts will assist you on a variety of topics ranging from financing, developing a business plan, marketing your business, and winning government contracts. Past expo participants include: BC Tent & Awning, Brockton NAACP, Brockton Redevelopment Authority, Center for Women & Enterprise, Consulate General – Cape Verde, DCAMM, Eastern Bank, Family & Community Resources, LegalShield, Massachusetts Office of Business Development (MOBD), MassHire Greater Brockton Workforce Board, Massachusetts Small Business Development Center, New York Life, North Easton Savings Bank, Old Colony Planning Council, Rockland Trust, SBA, SCORE, SEED Corp., Self Help Head Start, South Shore Haitian Adult Day Center, U.S. Census, Victory Human Services, and more!
5:30 pm – WOMAN & MINORITY OWNED BUSINESS PANEL
Hear from a panel of local businesses as they share their success stories. Learn how they used their backgrounds to develop new ideas, leverage regional resources, and tap into new markets. Invited to share their stories: America's Food Basket, Black Owned Brockton, and Brockton Beer Company.
6:15 pm -BUSINESS AFTER HOURS NETWORKING
Meet new potential clients during this Business After Hours event. Enjoy delicious food and drink while browsing the expo, career fair, and networking with members of the Metro South community.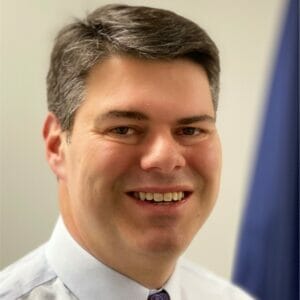 With remarks by Mike Vlacich, Regional Administrator, U.S. Small Business Administration. Mike will highlight the newly established Community Navigator Pilot Grant Program, recently awarded to the Cape Verdean Association of Brockton. "As Region I Administrator, Mike Vlacich oversees SBA programs, offices, and operations in the SBA's New England region, serving Connecticut, Maine, Massachusetts, New Hampshire, Rhode Island, and Vermont. Mr. Vlacich is a respected New Hampshire public servant with extensive economic development, policy, and constituent service experience at the nonprofit, state, and federal government levels. He is currently serving as a Senior Advisor to U.S. Senator Jeanne Shaheen, and over the years has served in other leadership roles in her U.S. Senate and Governor's offices. He previously served as President and CEO of the New Hampshire College and University Council, State Director for U.S. Senator Maggie Hassan, Director of the New Hampshire Division of Economic Development, and Deputy Chief of Staff to New Hampshire Governor John Lynch. Mr. Vlacich is a first-generation American and the first in his family to attend college, graduating from the University of New Hampshire in 1995." Visit www.sba.gov to learn more.
ABOUT THE PANEL:
Shaleah Gilmer, Black Owned Brockton. "Born & raised in Brockton, post High School I explored different industries in the Greater Boston Area such as Wealth Management primarily serving high-net-worth individuals. Being a contrarian was rewarding, however the power & passion I had to be in my community were not aligned. My current role as Youth Career Counselor allows me to pay it forward to the younger generation. My personal & professional development stemmed from being a participant of the Youthworks Program growing up so being able to provide the same service is always inspiring." Learn more about Black Owned Brockton at www.blackownedbrockton.com.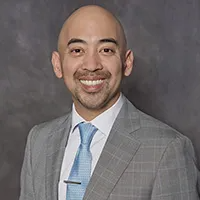 Ed Cabellon, Brockton Beer Company. "Ed Cabellon, co-owner and co-founder of Brockton Beer Company, has worked primarily in the Higher Education space for over 25 years at both private and public institutions as an executive and educator. As a first-generation Filipino-American, he's built an international reputation as a creative and collaborative servant leader, who has positively impacted students, faculty, and staff as a change agent. He specializes in digital technology, strategic planning, implementation and assessment, and data analysis. Ed earned his Bachelor's degree in Communication from Stonehill College, his Master's Degree in Educational Leadership from Central Connecticut State University, and his Doctorate in Educational Leadership from Johnson and Wales University.
He and his wife Rebecca have lived in Brockton for nearly 18 years and their two teenage daughters currently attend Brockton High School and Plouffe Academy. Rebecca has taught elementary school kids in Brockton for 26 years. When the idea for Brockton Beer Company came up at Friday night Game Nights with their friends, it was only a matter of time before this idea became a reality. Connect with Ed on LinkedIn or via email at ed@brocktonbeercompany.com." Visit www.brocktonbeer.com to learn more.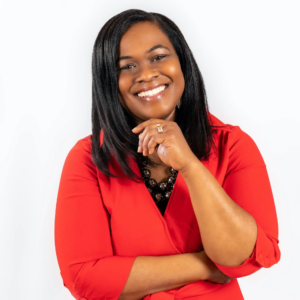 "Sharon Brewster is the Chief Brand and Creative Officer at Brewster Branding. Sharon, along with her team, helps businesses and consultants grow their brand through creative strategy sessions, social media management, and designing websites, logos, and marketing materials. She is passionate about business innovation, entrepreneurship, and developing young professionals.
She holds a Certificate in Women's Entrepreneurship from Cornell University, Certificate in Strategies for a Sustainable and Purpose Economy from FIT/SUNY and completed her Purpose Driven Brands studies there. Sharon earned a Mini-MBA in Digital Marketing from Rutgers University, BFA in Graphic Design from Massachusetts College of Art and Design, and MS in Marriage and Family Therapy from Eastern Nazarene College.
Sharon was recognized as the 2021 National Women's Empowerment Ministry Business Woman of the Year and named The Education Cooperative 2020 Mentor of the Year. She is the recent recipient of Fontbonne, The Early College of Boston's 2021 Distinguished Alumna Award.
Under Sharon's leadership, Brewster Branding has been received the 2021 LUXLife Global Excellence Award in "Innovation & Creativity in Brand Strategy", 2021 Media Innovator Awards "Best Brand Narrative Marketing Agency", and 2020 LUXLife Global Excellence Award "Best Graphic & Web Design Agency — Massachusetts."
When she is not working, you can find Sharon spending time with her family and making crafts for her latest business venture Wreaths by Jane Smith." Visit www.brewsterbranding.com to learn more.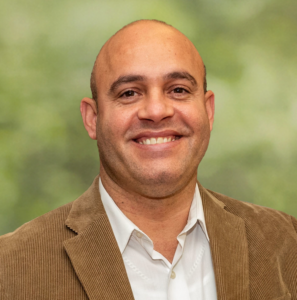 Gonzalo Diaz, America's Food Basket. "America's Food Basket stores are members of America's Food Basket LLC, a Cooperative of independent grocers located in New York, Massachusetts, Connecticut, Rhode Island, Pennsylvania & Florida. At its inception in 2007, the cooperative started with just three supermarkets and has now grown to 60 stores under the banners of Ideal Food Basket & America's Food Basket. As we celebrate our 14th year anniversary, our focus remains on serving our customers and the communities we are in. We strive to be your go-to neighborhood supermarket, providing our customers and partners with a central point of service, value and experience. America's Food Basket is a proud sponsor of Los Rancheros Unidos, Foundation Fighting Blindness & member of the National Supermarket Association." Visit www.afbasket.com to learn more.