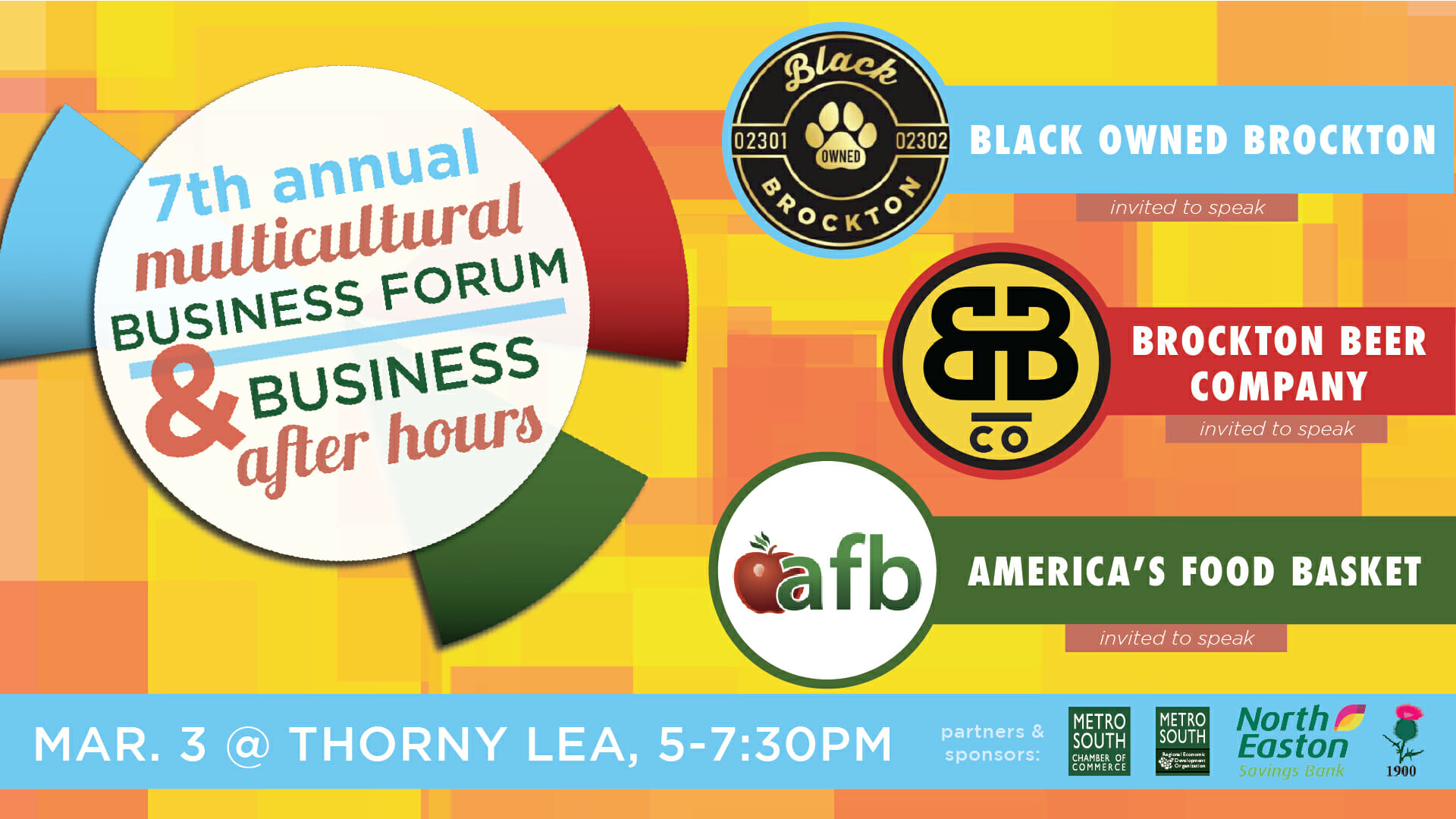 March 3, 2022
5:00 pm -

7:30 pm
Please do not attend if you feel unwell. Masks are required indoors. Thank you for doing your part!
Join us Thursday, March 3 from 5:00 pm -7:30 pm for the 7th Annual Multicultural Business Forum & Business After Hours. This is a great opportunity for potential and existing entrepreneurs to learn about helpful resources, network with local businesses, and hear from entrepreneurs who have successful businesses. The business resource expo is FREE to participate!
Learn about resources available to help start and grow your business. Experts will assist you on a variety of topics ranging from financing, developing a business plan, marketing your business, and winning government contracts. Past expo participants include: BC Tent & Awning, Brockton NAACP, Brockton Redevelopment Authority, Center for Women & Enterprise, Consulate General – Cape Verde, DCAMM, Eastern Bank, Family & Community Resources, LegalShield, Massachusetts Office of Business Development (MOBD), MassHire Greater Brockton Workforce Board, Massachusetts Small Business Development Center, New York Life, North Easton Savings Bank, Old Colony Planning Council, Rockland Trust, SBA, SCORE, SEED Corp., Self Help Head Start, South Shore Haitian Adult Day Center, U.S. Census, Victory Human Services, and more!
5:30 pm – WOMAN & MINORITY OWNED BUSINESS PANEL
Hear from a panel of local businesses as they share their success stories. Learn how they used their backgrounds to develop new ideas, leverage regional resources, and tap into new markets. Invited to share their stories: America's Food Basket, Black Owned Brockton, and Brockton Beer Company.
6:15 pm -BUSINESS AFTER HOURS NETWORKING
Meet new potential clients during this Business After Hours event. Enjoy delicious food and drink while browsing the expo, career fair, and networking with members of the Metro South community.