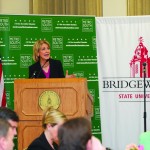 The Brockton Area Water Reclamation Facility located in Brockton and built to serve the entire region in the 1960s recently underwent more than 100 million dollars in renovations. It is now one of the most efficient and effective facilities within New England. A recent study conducted by the State of Massachusetts has concluded the
newly remodeled facility can handle all of the regions sewer needs through 2030.
However, the U.S. EPA has yet to grant the approvals necessary to allow the facility to fully serve the region. Instead, these communities are being required to study, plan and build redundant systems at unsustainable costs to their communities. This issue is hurting the entire Metro South region environmentally and economically. A resolution is essential. We cannot afford the loss of more jobs and opportunity. The Chamber's Chairman Peter Neville, Chair Elect Bill Morse and President Christopher Cooney are working with Attorney General Martha Coakley and will travel to Washington D.C. to meet with Senators Kerry and Brown. They will also meet with Congressman Lynch to elicit support and make progress on this important regional issue.