The Metro South region offers a number of fine health care facilities including four major hospitals. Signature Healthcare, Steward Good Samaritan Medical Center, New England Sinai Hospital and Rehabilitation Center, and the Department of Veteran Affairs Medical Center provide state-of-the-art medical care to area residents. Combined, these healthcare facilities represent the regions largest segment of employment.
Good Samaritan Medical Center
235 North Pearl Street, Brockton • (508) 427-3238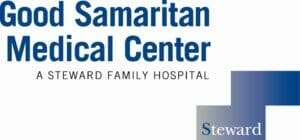 Good Samaritan Medical Center, a member of Steward Health Care, is an acute-care hospital providing comprehensive inpatient, outpatient, and emergency services to Brockton and 22 neighboring communities. The hospital offers Centers of Excellence care in oncology and cardiology, specialized care in surgery, family-centered obstetrics with level-two nursery, substance abuse, and advanced diagnostic imaging. Further information is available at www.goodsamaritanmedical.org.
Curahealth Hospital Stoughton
909 Sumner Street, Stoughton • (781) 297-8200

Curahealth Stoughton is a Long Term Acute Care hospital that specializes in the treatment of patients with complex medical needs. As part of a nationwide system, Curahealth offers compassionate quality care allowing each patient to reach his/her highest level of functional independence. To learn more, visit www.curahealth.com
New England Sinai Hospital & Rehabilitation Center
150 York Street, Stoughton • (781) 344-0600

New England Sinai Hospital, a member of Steward Health Care,  is a 182-bed, long-term acute care hospital offering state-of-the-art medical technology and a highly skilled staff. New England Sinai Hospital is recognized as a premiere regional specialty hospital, delivering quality pulmonary and complex medical care as well as ambulatory services and outpatient rehabilitation services to residents of southeastern Massachusetts. For more information, visit www.newenglandsinai.org.
Signature Healthcare
680 Centre Street, Brockton • (866) 974-7979
Signature Healthcare (www.signature–healthcare.org) is a new model of patient care for Southeastern Massachusetts. It is comprised of the award-winning Brockton Hospital and Signature Medical Group, a multi-specialty physician practice operating from locations in seven area towns. SMG doctors offer same day and next day access for primary care-adults and children- as well as urgent care evenings, weekends, and holidays and specialty care in dozens of specialties. Signature Healthcare Brockton Hospital, winner of Premier Award for Quality- ranking it in the top 1% of all acute care hospitals in the country – is a 253 bed hospital affiliated with Tufts Medical School. Whether in a doctor's office or the hospital, each patient's treatment is comprehensive, collaborative and coordinated through a single electronic health record, ensuring safe, high quality medical care close to home.
Veteran Affairs Medical Center
940 Belmont Street, Brockton • (508) 583-4500
The Brockton VA Medical Center is a 377-bed comprehensive health care complex offering Tertiary Ambulatory Care, Long Term Care and Psychiatric Care/Substance Abuse. This facility offers a wide array of primary care services, along with specialty clinics in cardiology, Pulmonary, Gastroenterology, Podiatry, Endocrinology, Neurology, Infectious disease, and Dermatology. The VA also operated a 48-bed residential vocational rehabilitation program and a Women Veteran's Program.